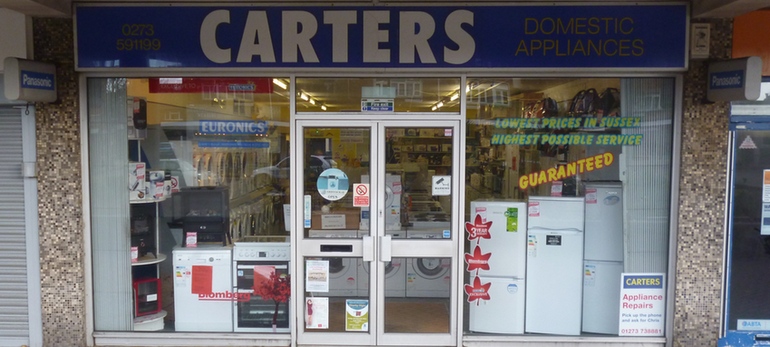 Carters Southwick Store
4 Southwick Square BN42 4QE
Tel: 01273 591199
email: sw@cartersdirect.co.uk
Award-Winning Kitchen Appliance Retailer- 20 years in Southwick!
We are a prominent member of the Euronics buying group. This allows us to offer keen competitive prices to our customers in Southwick and indeed all parts of Sussex. We supply electric and gas kitchen appliances, radios, kettles and toasters for customers in Southwick and all parts of the surrounding West Sussex area.
We believe our kitchen appliances will always add a touch of class and practicality to all our customers in the Southwick and Shoreham local area. Remember that we have a dedicated delivery service enabling us to promptly deliver and install brand new washing machines, kitchen hobs or range cookers to our customer's homes. Our number one priority is to provide a service that goes that extra mile in our local area.
Our kitchen hobs and ovens are a popular choice. We supply both gas and electric options that come in a wide and varied range of makes and models. Our sale staff will gladly spend as much time as needed to explain what is available and what features would benefit your home. Big or small we can find the right match for your budget! Our kitchen hobs and ovens are all fully guaranteed for 12 months with many offering longer periods of cover up to two , three five or sometimes even ten years!
We are finding that an increasing number of Microwaves are being sold to Southwick homes. Microwaves are a great quick appliance to heat the baby's milk bottle, cook the children's lunch or to defrost your dinner. Microwaves in all different forms have fast become one of the most essential items in the kitchen. You will find many different models available at this Southwick store as well as on the website. Choose from the basic efficient microwave to microwave/grills and indeed the combination ovens that can double as a conventional oven as well as built-in microwaves that will seamlessly become part of your kitchen. Why not speak to one of our team today to find the right model for you?
Affordable Electrical Goods in Southwick
At Carters we supply more for your home. We have a great range of electric fires to choose from that are of great interest in Southwick. These fires can be portable to move around the home or wall-mounted. Whatever your choice we are able to supply what you need from a a fantastic choice all at the very best prices.
Many of our Southwick and Shoreham customers have purchased vacuum cleaners from this store. We have over 80 different makes and models in stock. All different kinds from handheld, cylinder and upright models. There is a large choice. Come in to find right domestic vacuum cleaner to keep your home looking spotless!
Carters has become known as a centre for supplying discounted electrical goods and white goods. You will get a good deal! In recent years we have been voted the Best UK White Goods Store by the influential trade magazine, Innovative Electrical Retailing (IER) and also have become the Electrical Retail Times Best UK White Goods Store 4 times in recent years. Complimentary customer comments have been influential in the judges decisions based no doubt by offering the best deals on white goods and kitchen appliances, such as washing machines, dishwashers, tumble dryers and fridge freezers.
We are open 6 days a week so why not call in at our Southwick store today and see the fantastic range of white and electrical goods we have on offer?
Carters supply washing machines, range cookers dishwashers and fridges to Southwick, Shoreham, Porslade, Hove, Worthing and further afield to Burgess Hill, Hassocks , Ditchling and more.
Carters is a independent domestic appliance retailer based in Sussex. We have six stores all stocked with kichen appliances that will look great in your home. Whilst the largest store is the one found in Preston Road, Brighton just a few yards north of Preston Circus, our Southwick Store established in 1994 has become part of the local community and a destination store amongst many different businesses in Southwick Square. Our range of all goods for sale at these local areas include items such as washing machines, tumble dryers, dishwashers, vacuum cleaners, microwaves, electric fires, cookers, range cookers, kitchen hobs and all kinds of refrigeration. The Southwick premises totals almost 2,000 sq ft and keeps a large volume of stock in its stockroom from spares and batteries to large appliances for an immediate pick up or delivery by one of our delivery vans. It is run by Ronnie who has worked for us since 1997 and previously for Seeboard for many years
Southwick has grown rapidly in the 20th century as the coast became a popular holiday destination.
A first century AD Roman villa lies under Manor Hall Road. Records tell us that it was a elaborately decorated lavish residence similar in design to Fishbourne Roman Palace. that can be found near Chichester a few miles to the west. The site was acquired by the Sussex Archaeological Trust in 1931 and part of the villa was opened to the viewing public during summer months. In 1953-4 however, the site was sold to a property developer. The site now lies below housing. There are corresponding road names in the area, such as Roman Road and Roman Crescent.
Kings Cottages on Southwick Green is reputed to be where King Charles II stayed overnight before escaping to France from the nearby fishing village of Brighthelmstone (now Brighton).
Wing Commander Ken Wallis, the leading exponent of autogyros, lived in Church Lane, Southwick. Wallis worked as Sean Connery's stunt pilot in the 1967 James Bond film You Only Live Twice, where he flew one of his WA-116s named Little Nellie. In 1970, Wallis provided camera footage from one of his autogyros in a search for the Loch Ness Monster
Some of the questions asked by customers are as follows:
Where do I find your store?
Our store is part of the Southwick Square shopping complex constructed in the early 1960s and is well known to local residents. It is just east of the large Green Park area that attracts Funfairs and fetes in the summer months.The main roads to use would be the main A27 running a half a mile north of the store and the coast road that can be taken to Brighton if travelling east and to Shoreham/Worthing if heading west. There is also a train station linked to Brighton just south of the Square. A number of buses pass by including No46 that vistis Churchill Square and Hollingbury. Any Brighton/Worthing taxi cab will know our store here. Just ask to be taken to the Carters store, Southwick.
Does Carters deliver free to Southwick and the surrounding area?
Yes we do ! We deliver all items at no charge to any BN or RH postcode which is a large area so all addresses around Southwick will not be charged as long as the total invoice whether one item or more comes to over £150 with us. Remember that we are able to deliver any item to any mainland UK address at a competitive fee.
Is all stock kept at your Southwick shop?
No!. As we offer such a large range of goods to our customers it has become necessary to store most items in a large 40,000sq ft warehouse. Our Southwick store therefore keeps a good core range of everyday items in stock but most large appliances will be sourced from our Storrington storage facility. Southwick customers can be assured of the very best fast delivery service to their homes. Give us a try!
Please tell me if your delivery team install and take away the old appliance?
We have seven delivery crews including three that will deliver your appliance to any Southwick address or home in nearby Brighton or Shoreham. The delivery crew are well trained and able to install most freestanding machines from washing machines to dishwashers, fridges and cookers. Please ask about our service for built in appliances as this can be arranged but on a job to job basis. We do charge to install and to take way the old appliance for recycling but at a very reasonable sometimes subsidised rate. Ask us for details. For your information all goods collected are taken to approved disposal facilities. Carters are keen to help our environment!
I am concerned that your price you've charged may be higher than other places in Southwick and the surrounding area such as Brighton, Steyning or Worthing. Do you match prices from other stores?
Yes we operate an extremely competitive price match policy. We constantly look at our prices and try to offer our customers the lowest prices anywhere on the Sussex High Street. We believe our prices are very low but will attempt to match any High Street Store in Sussex on the day of sale, like for like including delivery, on every single item we sell. We have pride in being loyal to our customers as they are to us The product must in stock at the competitors store and be a current model capable of being purchased by ourselves from our normal sources. The only possible exceptions is when the appliance is an ex demonstration or discontinued model. We must be given sufficient information to enable us to check the price at the competitors store. In any situation however we will always try our best to give the very best price even in a non like for like basis.
Do the staff at your Southwick store have a good knowledge of what built in oven is best for my kitchen? I have not bought one for some time and need to know what the choices are?
Our Southwick sales staff are well trained to be able to explain the features and benefits of all the products we sell. Any unexpected unusual enquiries can be answered after consultation with other staff, or after a telephone call or email to the manufacturer!
I've heard in the press that you believe your after sales service is second to none. Please explain
Our reputation has been built on offering our customers the very best after sales service. We want you your purchase to be of great value from the day you bought it to many years in the future. Any one of our sales team at our Southwick store in person or by telephone 01273 591199. They can offer helpful advice to ensure you fully appreciate the features of the machine you purchased from us. If your question is of a specialised technical nature then it might be better to discuss this with Chris or a member of our service crew on 01273 738111. They will be able to help you with most unusual enquiries!
WHEN LOOKING FOR DOMESTIC KITCHEN APPLIANCES, CALL US ON 01273 591199 TODAY OR SPEAK TO ONE OF THE TEAM AT OUR SOUTHWICK STORE