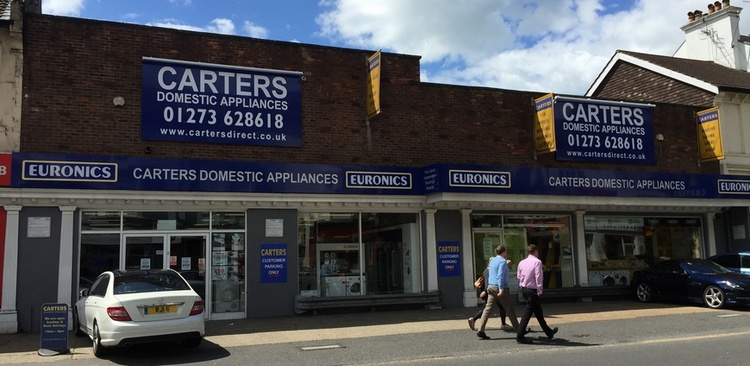 Carters Domestic Appliances
19-29 Preston Road, Brighton, BN1 4QE
Tel: 01273 628618
email: brighton@cartersdirect.co.uk
Visit us at Carters in Brighton today to view a huge range of domestic appliances . Our Brighton outlet is one of seven in the local Sussex area and because we are a part of renowned Euronics Buying Group, we guarantee to bring you one of the largest selections of domestic appliances at competitive independent prices.
Our business enjoys widespread acclaim from our valued customers and leading industry bodies including Euronics, the ERT and IER. Carters trade as multiple retailing award-winners and in 2010, we were voted the Euronics Store of the Year. We are also FSB members and regular winners of the ERT and IER Best White Goods Store Award.
If you need white goods domestic appliances call in to see us at our fully stocked Brighton store! We are main agents for some of the biggest names in the electrical retailing marketplace and our Storrington warehouse holds a massive stock range, including washing machines in Brighton, to give our customers more choice than ever before.
We have spent many years building our reputation. We provide a complete after-sales service with servicing and repair options that cover our entire appliance range. From cookers and hobs to tumble dryers, electric ovens and dishwashers in Brighton, Carters are here to cater for every possible requirement!
Carters is an independent domestic appliance retailer based in Sussex. We have six stores all stocked with kitchen appliances that will look great in your home. The largest store is the one found in Preston Road, Brighton just a few yards north of Preston Circus. Our range of all goods for sale to these local areas include items such as washing machines, tumble dryers, dishwashers, vacuum cleaners, microwaves, cookers, range cookers, kitchen hobs and all kinds of refrigeration. Our Preston Road Brighton mega showroom is one of the biggest in the South East. We have separated goods to create a number of unique manufacturer shops that give our customers a super choice and product information. Remember that our prices are very competitive too!
Did you know that Brighton was the backdrop to ABBA's Eurovision success? Most people don't know that when the Swedish band ABBA won the Eurovision song contest with Waterloo in 1974, it was in Brighton! The event was held at the Brighton Dome concert hall, still a popular arts venue today.
Brighton is also home to Britain's oldest cinema. A well-known landmark in Brighton is the historic Duke of York's cinema just around the corner from our showroom. It is reputed to be the oldest cinema in continuous use in Britain. Come down to our showroom and then cross the road to relax in the cosy, theatre-esque surroundings of the Duke of York's cinema. Why not watch the latest releases and re-runs of the all-time classics on the big screen!
Brighton is home to the well-loved fictional detective Detective Inspector Roy Grace. Best-selling author Peter James has set most of his top selling novels in Brighton. Click here for more information. So far the novels have been published in over 30 different languages! Peter James divides his life between his country home near Brighton, Sussex and his apartment in Notting Hill, London. He currently writes a monthly column for Sussex Life magazine where you often see a Carters advert. Peter proudly confesses to be obsessed with motor cars. He owns many desirable cars as well as competing in major motor races especially at the Goodwood Revival event held in September of each year.
Many actors, musicians and other public figures are resident or have lived in Brighton. It is considered a very desirable place to live. Walk the streets and you may recognise some famous faces of which many have visited our stores and have become happy customers. Sir Paul McCartney, Nick Cave, Adele, Noel Gallagher, Fat Boy Slim, and even Hollywood actress other-info/about-carters-sussex-stores/carters-brighton-store.htmlCate Blanchett are but a few to have owned homes in Brighton.
The world famous Brighton Pier found at the end of our road is 1,760 feet long and contains 85 miles of planking. It was formally opened on May 20, 1899. More than 3 million people visit the pier every year. It has featured in many films and TV Serials including Carry On at Your Convenience, Mirrormask, The Persuaders, Doctor Who and the 2007 film Sweeney Todd: The Demon Barber of Fleet Street
A final interesting fact about Brighton is that it has tunnels running beneath it! Brighton is rumoured to have numerous lost tunnels but there is one from the Royal Pavilion to the museum and Dome today which you can still see. This was reputedly so the Prince Regent could move about Brighton without people seeing how overweight he had become!
Many people visit our showroom. This is just a small selection of common questions.
Where do I find your store?
Our Brighton store is very easy to find. It's just 80 or so yards north of Preston Circus, a prominent road junction in Brighton. Landmarks at this junction include the Duke of York's Cinema, The Brighton Fire Station, The Joker Public House and Lloyds Bank.. The London Road starting at the Brighton Pier on the seafront becomes Preston Road just north of Preston Circus because it passes Preston Park a short way further north. This road becomes the London Road again a little way north after this green space. You can park your car outside this store whilst inside viewing and discussing your requirements inside. Its free for our customers! Alternatively customers can reach us by bus as we are on a main bus route. Any 5, 5b, 1a, 46, 17, 25, 26, 28, 40,55,56,270,271,272,273,727 and 747 bus will stop here or at a Preston Circus bus stop. The Brighton Railway station is a few minutes walk away. Any Brighton taxi cab driver will know our store. Just ask to be taken to the Carters Store Preston Circus.
Does Carters deliver free to Brighton?
We deliver all items at no charge to any BN, GU and RH postcode so all addresses in Brighton will not be charged as long as the total invoice whether one item or more comes to over £150 with us. Remember that we are able to deliver any item to any mainland UK address at a competitive fee.
We understand you are part of Euronics. What does that mean?
There are 700 Euronics stores in the UK. Why not click here to view our own Euronics Store welcome webpage?
Is all stock kept at your Brighton shop?
No. As we offer such a large range of goods to our customers it has become necessary to store most items in our out of town warehouse. Our Brighton store however keeps a limited core range of everyday items in their stockroom but most large appliances will be sourced from our Storrington storage facility. We try to offer the very best fast delivery service to your home. Give us a try!
I recently bought a Washing Machine from your Brighton Carters Store but it broke down just after a few months. What can you do to help me?
Every major item sold by us at Carters is supplied with a warranty backed by the manufacturers. This period may be one, two, three, five, seven or even a ten year period of good cover. Details will be seen on the sales receipt or offered freely by our staff. Your washing machine or other type of appliance can be repaired quickly usually by the manufacturer acting as our agent. They after all built the washing machine so should be able to resolve most issues! If the fault exceeds the manufacturers warranty period then check to see if the receipt includes further warranty cover agreed when you bought the appliance. This additional cover is typically provided by RETRA. Blomberg washing machines are covered by a three years warranty for example but selected built in products may be covered up to five years so check with our staff if you experience a problem.
Please tell me if your delivery team install and take away the old appliance?
We have seven delivery crews able to deliver your appliance to any Brighton address. They are well trained and able to install most freestanding machines from washing machines to dishwashers, fridges and cookers. Please ask about our service for built in appliances as this can be arranged, but on a job to job basis. We do charge to install and to take away the old appliance for recycling. This is at a very reasonable sometimes subsidised rate. Ask us for details. For your information all goods collected are taken to approved disposal facilities. Carters are a green company, keen to help our environment!
I am concerned that the price you've charged may be higher than other places in Brighton and the surrounding area. Do you match prices from other stores?
Yes at Carters we have a price match policy. We constantly look at our prices and try to offer our customers the lowest prices anywhere on the Sussex High Street. We believe our prices are very low but will attempt to match any High Street Store in Sussex on the day of sale, like for like including delivery, on every single item we sell. We have pride in being loyal to our customers as they are to us. The product must be in stock at the competitors store and be a current model capable of being purchased by ourselves from our normal sources. The only possible exception is when the appliance is an ex demonstration or discontinued model. We must be given sufficient information to enable us to check the price at the competitors store. In any situation however we will always endeavour to give the very best price even on a non like for like basis. So you can shop with us enjoying competitive prices in the knowledge that we will make every effort to give you the very deal in town!
Do the staff at your Brighton store have a good knowledge of what built in oven is best for my kitchen? I have not bought one for some time and need to know what the choices are?
You have come to the right store! Our Brighton sales staff are well trained to be able to explain the features and benefits of all the products we sell. Any unexpected unusual enquiries can be answered after consultation with other staff, or after a telephone call or email to the manufacturer!
I've heard that you offer an after sales service. What does this entail?
Our reputation has been built on offering our customers the very best after sales service. We want you your purchase to be of great value from the day you bought it to many years in the future. Just contact any one at our Brighton store in person or by telephone 01273 628618. We can offer helpful advice to ensure you fully appreciate the features of the machine you purchased from us. If your question is of a specialised technical nature then it might be better to discuss this with Chris or a member of our service crew on 01273 738881.