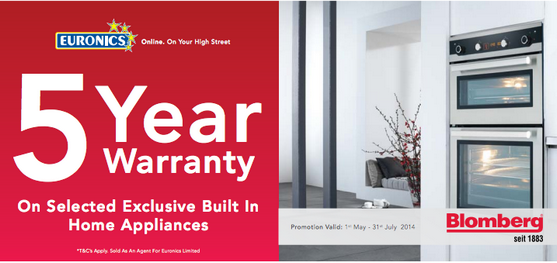 5 year warranty on selected Built in Blomberg models
From 1st March 2017 customers of selected Blomberg Built In Models as detailed below will have further peace of mind as we can now offer a two year extension of the Blomberg Three year Warranty giving FIVE years Parts and Labour cover for your appliance.
Please ensure that you register this product with Blomberg within 90 days of the date of purchase to qualify.
There are two ways how customers can register for this great deal.
PHONE 0800 917 0879 or register online at Blomberguk.com/register.
The models covered by this Five year cover is as follows:
Blomberg FIVE year Warranty Cover
MIN54306N- Induction Hob
GEN54315E- Gas Hob
OEN9302X- Built In Single Oven
ODN9462X- Built In Double Oven
OTN9302X- Built Under Counter Double Oven
TSM1750U- Built In Auto Defrost Larder Fridge
SSM1351i- Built In 54cm Auto Defrost Tall Larder
FSE1630U- Built In Non Frost Free Freezer
FNM1541i- Built In 55cm Frost Free Tall Freezer
KNM4551i- Built In 54cm Frost Free Fridge Freezer
KNM4561i- Built In 54cm Frost Free Fridge Freezer
LWI842- Built In 1400rpm spin 8Kg Washing Machine
MKN24001X- Ceramic Hob
LDVN2284- Built In 13 place settings Dishwasher
LDVS2284- Built In Slimline 10 place settings Dishwasher
LRI285410W Built In 1400rpm spin 8Kg Wash-5Kg Dry Washer Dryer