ECO Kitchen styles & designs for all tastes
Our kitchens not only offer market leading products we also offer superior styling through modern, contemporary, chic to a more traditional flavour from our extensive portfolio of designs. Our award winning furniture, offers inspiration to every customer and designer to create a living space that will bring those dreams to reality.
Our high specification, European style platinum white cabinets offer co-ordinated replacement ends in,
Avola Grey, Avola White, Fjord, Gloss Dakota, Gloss Kashmir, Gloss Oyster, Gloss White, Oyster, Lancaster Oak, Cream, Stone Grey, Driftwood, Brown Grey Avola, Grey Bardolino Oak, Dakar, Kashmir, Mussel, Grey Mist, Denim Blue, Gloss Grey Mist, Dust Grey, Halifax Oak, Cascina Pine & Boston Concrete. As standard appliance housings & larders are supplied complete with colour co-ordinated ends. Glass Wall Units and Dresser Units are colour co-ordinated, internally & externally
Fira Gold Certification.18mm Quality mfc (BS6222-3:1999) with 130gsm overlay as standard. 0.8mm ABS cabinet lipping gives better looks & protection. Cam construction with added dowels giving extra strength 8mm. Full length matching MDF backs to base & wall. Concealed wall hanging brackets for good looks. Blum 110º 3 way adjustable hinges. Blum soft close door option. Blum tandem drawer with soft close. Replacement co-ordinated ends to match unicolour, woodgrains & gloss.
Abbey Oyster
Avola Brown Grey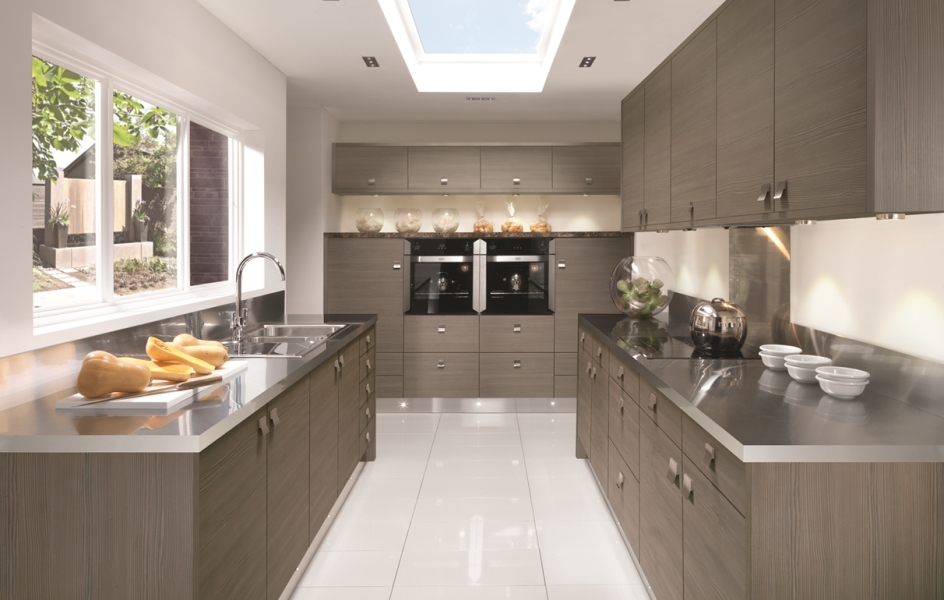 The Avola range of doors offers colours that compliment each other yet independently cover the spectrum of hues from the Avola colour range. The light washed pumice of Avola Grey.
Cologne Oyster
Warm, bright and accommodating of all tastes in decor, Cologne Oyster brings a soft edge to strong design.
Image Gloss Kashmir
Image Kashmir creates the look of today but a subtle blend of grey and a touch of red ensures that this is the kitchen of the decade. Blend or contrast to create an expensive effect that's highly affordable, durable and liveable.
Image Gloss White
Image Gloss White can be clinical, tidy or lighten up any corner. In a busy life there is always time for reflection.
Integra Gloss White
Integra Gloss White has been added by popular insistence. This finger pull door brings clean lines and style to any configuration. Hi tech and low tech can be accommodated by the creative designer, encompassing all age groups and most tastes.
Solent Fjord
Soft tones combined with the matt paint effect vinyl, within the Solent door, bringing gentle style to any home. Soft tones combined with the matt paint effect vinyl, within the Solent door, bringing gentle style to any home. Available in White, Fjord, Kashmir, Oyster, Dakar & Mussel.
Tempo Driftwood
As the name suggests, Driftwood is heavily structured, as if worn by natures oceans. The wild grain pattern, combined with deep texture and grey tones combine superbly well with the contrast of the calm Image Linea Grey Mist Gloss. The mixing of the gloss unicolour, matt texture and timber finish is on trend and will remain so, for many years to come. Featured is the Linea top fix pull handle adding to the overall visual appeal.
Click here to view our process
Click

here to see the full ECO range from our partner company JJO Kitchens