WE ARE AEG.
We exist to redefine what you expect out of your household appliances, which is why we want to challenge the boundaries of everyday life.
Since our start in Berlin in 1883, we've never settled for good enough, and we don't think you should have to either. That's why we never compromise with innovations for your home. So you can live on your own terms, while also living up to the terms of the environment. And care less, to care more about the big picture.
Discover incredible baking, grilling and roasting with a multifunction oven from AEG. Whether you're a novice cook or an accomplished chef, our kitchen ovens suit every skillset and every space - from single ovens ideal for smaller kitchens to double ovens perfect for rustling up dinner party banquets. Master new flavours and cook up a storm with our range of electric ovens.
Make cooking easy and enjoyable with our range of versatile hobs. Ensure perfect results, whether it's a meal for two or a dinner party for eight, as at AEG our hobs are designed to fit your life. Make multi-tasking easy and take control of flavours with an oven and hob combo, or simply update your kitchen hob and create restaurant-style dishes at home.
Find the ideal AEG gas or electric cooker to match your cooking needs. Whether you like to cook huge feasts or modest meals, AEG has the right cooker to meet your culinary needs.
Create a fresh and welcoming ambience in your kitchen with an AEG cooker hood. The DirectTouch sliding control on the Island Hoods lets you set the rate of extraction to match your specific needs with precision.
Save space on your kitchen worktops and dish up delicious meals in moments with a built-in microwave. Choose an integrated microwave with a built-in grill for maximum functionality and a professional finish, and choose between all-black or a stainless steel finish for a built-in microwave oven that blends seamlessly into your kitchen. Defrost, reheat and cook to perfection with an AEG microwave.
Keep clothes looking and feeling like new with our range of AEG washing machines. With the latest technologies, each wash maintains your garments without impacting on efficiency. Our range of integrated washing machines and standalone washing machines means there is a style to suit every home and need. From larger 10kg washing machines for family loads to compact, space-saving smaller sizes - find a washing machine that fits your everyday with AEG.
As a convenient essential, a washer dryer is a space-saving addition for every home. With the same performance as two separate machines, you can wash and dry in one go - even your delicates. Low temperatures and controlled spins leaves your clothes in excellent condition after every use. Find your perfect washer dryer combo from our range to easily suit your space.
Discover the perfect tumble dryer to safely take care of your clothes. Whatever your wash type, our expert technology gives you the right result every time. Each clothes dryer is expertly made with outstanding efficiency to work on big or small loads. Control the movement and temperature of your laundry with an integrated tumble dryer and keep your clothes feeling great.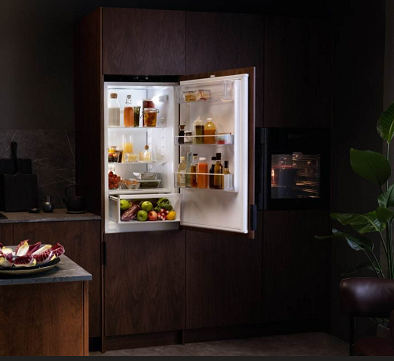 Our Fridges and Freezers protect food quality by delivering on the 3 key elements of preservation. Stable Temperature, Right Humidity and a Sealed Environment. Keeping all your fresh ingredients to hand is key to creating fresh, delicious dishes. With CustomFlex® you can organise your fridge storage just the way you want. Rearrange bins quickly and easily to maximise storage space. Your Fridge, Your Way.
Find the refrigerator for you with AEG. With our smart CustomFlex® modular storage system, fridges can be customised to your liking as drawers and trays can be easily rearranged for optimal storing space. Our range of refrigerators means there's one for every kitchen space - whether it's a small fridge, double fridge or something larger, flexibility can be yours.
Keep your frozen products in an easy-to-organise upright AEG freezer that makes it simple to find what you need. Or prioritise storing in bulk with a large chest freezer. Benefit from ice-free technology - AEG NoFrost, so defrosting becomes a thing of the past. Designed with every kitchen space in mind, from undercounter freezers to deep freezers you'll be sure to find your perfect fit with AEG.
The AEG ComfortLift® is the first dishwasher in the world that lets you gently slide and lift the lower basket upwards. With a dishwashing machine designed around your needs, you can unload more efficiently and stack more effectively. Dishwashing has never been easier with our range of smart and eco-friendly dishwashers.
Our full Cordless vacuum range, designed to meet your specific cleaning needs. We know that a clean home helps us feel happier and healthier. Our mission is to develop vacuums which make cleaning an effortless task and deliver a healthier living environment. With our new Cordless vacuum cleaners, we aim to improve the cleaning experience and performance, to shape living for the better.