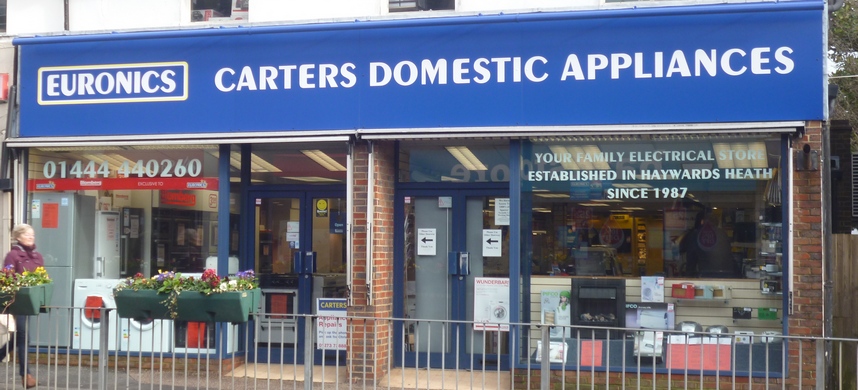 Carters Haywards Heath Store
20-22 South Road, Haywards Heath, West Sussex, RH16 4LA
tel: 01444 440260
email: hh@cartersdirect.co.uk
Come to Carters in Haywards Heath! We have a complete range of domestic appliances to choose from at affordable keen independent prices without equal in the local Mid Sussex area. We trade as part of the Euronics Buying Group to bring you branded dishwashers, cookers, washing machines, fridge freezers and more from today's most trusted leading manufacturers.
We have seven outlets throughout the Sussex area including this dedicated domestic appliance store in the heart of the local town of Haywards Heath. Carters are a caring company and a member of the Federation of Small Businesses as well as Sussex Enterprise. We have won multiple awards over the past six years including prestigious titles from Euronics, the Electrical Retail Times(ERT) and Innovative Electrical Retailing(IER).
Washing Machines Fridges & Dishwashers in Haywards Heath
We are your local specialists for domestic white goods and an exciting selection of dishwashers fridges, ovens, radios and washing machines in Haywards Heath. We're proud to trade as main agents for the most renowned brand specialists in today's domestic appliance marketplace and we have a huge 40,000sqft warehouse supplying our seven stores on a daily basis at the best possible prices.
Although we are proud of our growing reputation as a major destination for white goods in Haywards Heath, we also believe that the after-sales aspect of our business is just as important. That's why we complement our sales and installation service with a full range of servicing and repair options on our entire appliance range including our washing machines and dishwashers in Haywards Heath.
Carters is a family independent domestic appliance retailer based in Sussex. Haywards Heath was home to our first shop that opened its doors way back in 1987. We have since moved to 20-22 South Road regarded as the High Street of the town. This store is air conditioned and crammed with goods that will look great in your home.
We have six stores all stocked with a good range of all goods from well known manufacturers including items such as washing machines, tumble dryers, dishwashers, vacuum cleaners, microwaves, cookers, range cookers, kitchen hobs and all kinds of refrigeration.
Our Haywards Heath store is managed by Billy with assistance from Andy ,Chris and Andy. Come in and have a look around the store and see if we can help you.
For your information, Haywards Heath is a mid sussex town that attracts both the more mature tourist as well as the more active in our midst. Visit Borde Hill Gardens that boasts 200acres of parkland and woodland or take a trip on the minature railway at Beech Hill Gardens. Wakehurst Place is managed by the Royal Botanical Gardens in Kew housing an important part of the "Millenuim Seed Bank Project".
Haywards Heath is a relatively modern urban development only really rapidly expanding since the arrival of the railways in the mid 1800s. The railway station is served well by London trains.
The most famous Haywards Heath inhabitant is Daley Thompson famous for being the double Olympic Decathlon champion in 1980 and 1984.
Our Haywards Heath staff are asked a lot of questions. For example:
Do you sell TVs and hi-fi as we can see that you have a good selection of DAB radios always on show?
We sell radios, especially Robert Radios in great numbers at this store but leave specialised hi-fi to other shops. Carters is known for selling white domestic appliances normally found in the kitchen.
It's nice to have an electrical store in Haywards Heath. Why haven't you moved here before?
We have been in Haywards Heath since 1987 but moving around the corner to this location in South Road in 2012 has made a big difference. We are now a much more visible part of this lovely thriving town. So many more customers have discovered that they can get a good deal in Haywards Heath without the need to travel beyond its boundaries.
Where do I find your Haywards Heath store?
Our Haywards Heath store is in the centre of town being on the eastern end of South Road by the pedestrian crossing just a few yards down the hill from Barclays, LLoyds Bank and the Orchard Shopping Centre. In fact our shop is in on the A272 road which runs east to west just north of Heathfield to Winchester in Hampshire.
Do you store all the goods on sale at these address?
No, It is not possible. At Carters we offer an ever expanding differing range of goods designed to make life easier in your kitchen so it has become necessary to store most items in a large 40,000sq ft warehouse just a few miles southwest in Storrington. This a good location for our Mid-Sussex customers who usually enjoy very prompt delivery to their homes.
Do you match prices from other stores such as John Lewis and the Optimum Centre in town?
Yes at Carters we have a price match policy. We constantly look at our prices and try to offer our customers the lowest prices anywhere on the Sussex High Street. We believe our prices are very low but will attempt to match any High Street Store in Sussex on the day of sale, like for like including delivery, on every single item we sell. We have pride in being loyal to our customers as they are to us. The product must be in stock at the competitors store and be a current model capable of being purchased by ourselves from our normal sources. The only possible exception is when the appliance is an ex demonstration or discontinued model. We must be given sufficient information to enable us to check the price at the competitors store. In any situation however we will always endeavour to give the very best price even on a non like for like basis. So you can shop with us enjoying competitive prices in the knowledge that we will make every effort to give you the very deal in town!
Can I guarantee you will give me good sales advice?
Our staff are required to attend training sessions held at one of our stores as well as those being held at various manufacturer locations. We have also attended training sessions held in different parts of Europe so we do believe that we are able to help you. Ask any one of our sales team such as Billy, Chris or Andy at our Haywards Heath store in person or by telephone 01444 440260 . They can offer helpful advice both before and also after the sale to ensure you fully appreciate the benefits of the domestic appliance now in your home. If we are unable to assist immediately we know people who can help with technical complicated questions!