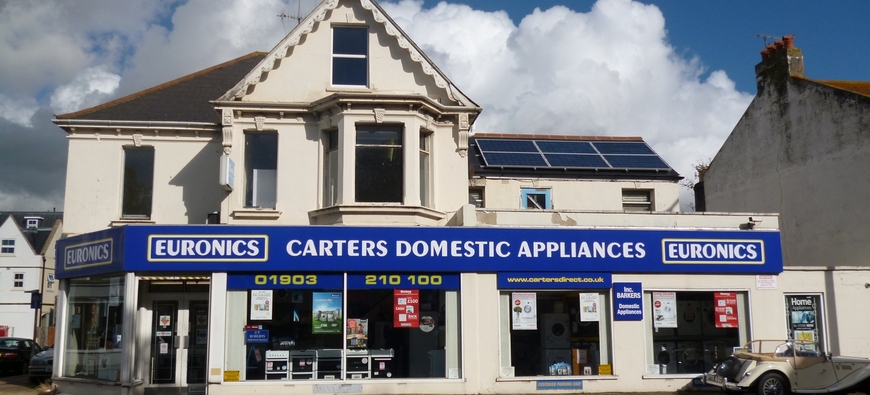 Carters Worthing Store
54 Teville Road, Worthing BN11 1UL
Tel: 01903 210100, email worthing@cartersdirect.co.uk
Carters is a independent domestic appliance retailer based in Sussex. We have six stores all stocked with kitchen appliances that will look great in your home. Our range of all goods for sale to these local areas include items such as washing machines, tumble dryers, dishwashers, vacuum cleaners, microwaves, electric fires, cookers, range cookers, kitchen hobs and all kinds of refrigeration. Our Worthing showroom has been a centre for domestic appliance sales since the 1950s and part of the Barkers group of companies dating back to just before 1900 when this store was selling Bicycles! We purchased the store in 2009 taking on the existing staff. Why not pay us a visit and deal with people you know? Remember that our prices are very competitive too!
Here are some typical questions and comments.
Where do I find your store?
Our Worthing store is so easy to find being on the main approach to the main Worthing Railway Station. Once travelling on Teville Road, just follow the signs to Worthing Central Station. You will see our store on the corner of Teville Road and Victoria Road which is the main approach to the Railway station. You really cannot miss it!
Does Carters deliver free of charge in Worthing?
Yes of course! We deliver all items at no charge to any BN or RH postcode so all addresses in Worthing will not be charged as long as the total invoice whether one item or more comes to over £150 with us. Remember that we are able to deliver any item to any mainland UK address at a competitive fee.
Is all stock kept at your Worthing shop?
No, not all items. As we offer such a large range of goods to our customers it has become necessary to store most items in a large 40,000sq ft warehouse. So although our Worthing store will hold a good range of stock, most large appliances will be sourced from our Storrington storage facility. All our delivery vans and crews are based here to allow customers in Brighton the very best fast delivery service to their homes. Give us a try!
I recently bought a Washing Machine from your Worthing Carters Store but it developed a problem . What can you do to help me?
Every major item sold by us at Carters is supplied with a warranty backed by the manufacturers. This period may be one, two, three, five, seven or even a ten year period of good cover. Your washing machine or other type of appliance can be repaired quickly by the manufacturer acting as our agent. They built the washing machine so should be able to resolve most issues. If the fault exceeds the manufacturers warranty period then check to see if the receipt includes further cover agreed when you bought the appliance. This additional cover is typically provided by RETRA. Blomberg washing machines are covered by an automatic three years warranty for example but selected built in products may be covered up to five years so check with our staff if you experience a problem.
Please tell me if your delivery team install and take away the old appliance?
We have seven delivery crews that will deliver your appliance to any Worthing address. They are well trained and able to install most freestanding machines from washing machines to dishwashers, fridges and cookers. Please ask about our service for built in appliances as this can be arranged but on a job to job basis. We do charge to install and to take way the old appliance for recycling but at a very reasonable sometimes subsidised rate. Ask us for details. For your information all goods collected are taken to approved disposal facilities. Carters are keen to help our environment!
I am concerned that your price you've charged may be higher than other places in Worthing and the surrounding area. Do you match prices from other stores?
Yes at Carters we have a price match policy. We constantly look at our prices and try to offer our customers the lowest prices anywhere on the Sussex High Street. We believe our prices are very low but will attempt to match any High Street Store in Sussex on the day of sale, like for like including delivery, on every single item we sell. We have pride in being loyal to our customers as they are to us. The product must be in stock at the competitors store and be a current model capable of being purchased by ourselves from our normal sources. The only possible exception is when the appliance is an ex demonstration or discontinued model. We must be given sufficient information to enable us to check the price at the competitors store. In any situation however we will always endeavour to give the very best price even on a non like for like basis. So you can shop with us enjoying competitive prices in the knowledge that we will make every effort to give you the very deal in town!
Do the staff at your Worthing store help me choosing the best Fridge Freezer for my kitchen? I have not bought one for some time and need to know what my choices are?
We ensure all of our sales staff are well trained and able to discuss the individual features and benefits of all the products we sell. Any unexpected unusual enquiries can be answered after consultation with other staff, or after a telephone call or email to the manufacturer!
I've heard that you offer an after sales service. What does this entail?
Our reputation has been built on offering our customers the very best after sales service. It is our Number One priority as we want you to give us a try when shopping for appliances in the future. Your purchase should be of great value from the day you bought it and for many years in the future. Ask any one of our sales team at our Worthing store in person or by telephone 01903 210100. They can offer helpful advice to ensure you fully appreciate the benefits of the domestic appliance now in your home. Occassionally we are unable to assist immediately if the question is extremely technical but we know people who can help! So, if your question is of a specialised nature then it might be better to discuss this with Chris or a member of our service crew on 01273 738881. They will be able to help you with most unusual enquiries!
WHEN LOOKING FOR DOMESTIC KITCHEN APPLIANCES, CALL US ON 01903 210100 TODAY OR SPEAK TO ONE OF THE TEAM AT OUR WORTHING STORE